Pergola Plans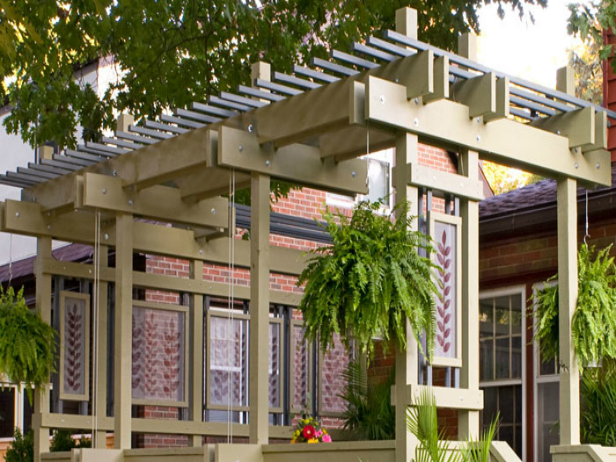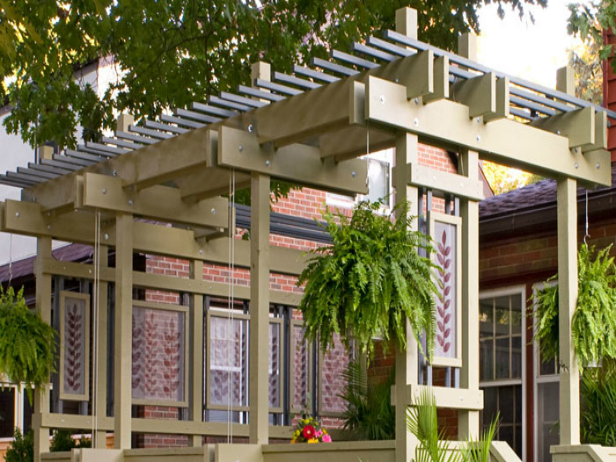 Deck Pergola
Make your deck feel like an outdoor room with this easy-to-customize pergola. Cables and exposed bolts add an up-to-date flair and places to hang plants.
TOOLS

MATERIALS

Circular saw or compound miter saw
Drill and bit set, including a 5/8-in bit
Screwdriving bits
Tape measure
Chalk line
Level
Square
Hammer
1-in wood chisel
Clamps with an 8-in capacity
Cable stop swaging tool, #348539

8' 2x8 pressure-treated boards
construction adhesive
5" galvanized drive screws
1x3 boards
2" x 3" galvanized steel angle brackets
4-in x 4-in x 12-ft treated posts, #1763
2-in x 8-in x 16-ft treated lumber, #201519
2-in x 2-in x 8-ft treated lumber, #204231
Galvanized post base
1/2-in x 8-in hex lag bolts
1/2-in hex nuts
Flat washers
1/2-in x 5-in lag screws
3/16-in galvanized cable, #62803
3/16-in ferrules and stops, #348538
3-in deck screws
Cabot stain, Sycamore and Foothill, #238846
INTRODUCTION
These instructions and the project diagram will help you build a pergola similar to the one shown that was created for a 12-ft x 14-ft deck. Use them to help customize the structure to suit your home's deck and yard. Work with a Lowe's associate and local building code officials to make certain this design is allowed on your property. Before digging the footings for the posts, call 811 or have your local utility companies locate buried pipes and lines.